| | |
| --- | --- |
| Posted on 23 November, 2015 at 10:15 | |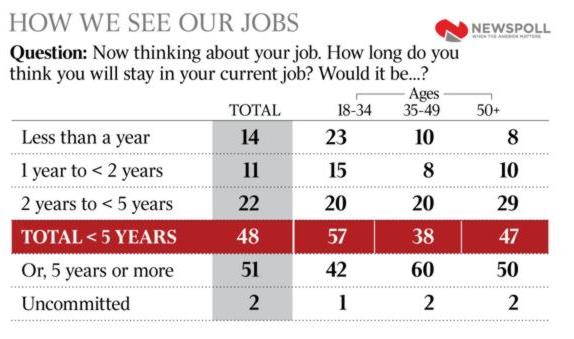 A recent Newspoll carried out for The Australian has revealed some shocking, but then again, not so surprising figures.
First of all, let's make it known that these figures are only based off 699 interviews with both full time and part time workers. That's not a huge database to work off when you're predicting the trends of the Australian working population.
57% of workers aged between 18-34 expected to stay in their jobs for less than five years. Surely this shouldn't come as a shock. It is well known that Gen-Y like to move around and that they're likely to not only change jobs but also change career paths multiple times in their life.
Overall, 48% said that were likely to stay in their jobs for less than 5 years, with 14% saying they would stay for less than a year.
- Read more at: https://au.oneshiftjobs.com/blog/how-long-do-australian-workers-plan-to-stay-in-their-jobs-502/
Categories: None