| | |
| --- | --- |
| Posted on 23 November, 2015 at 9:25 | |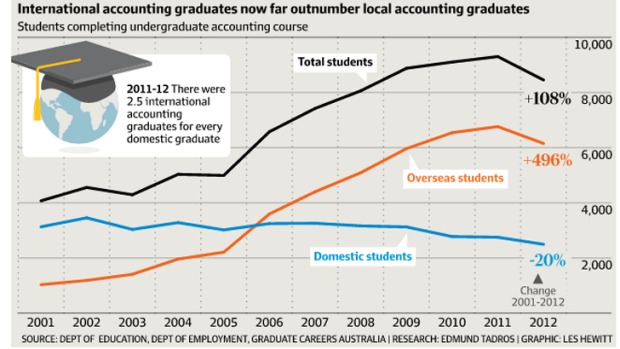 It used to be one of the safest career choices. But while Australians are deserting the accounting profession, an avalanche of foreign accounting students has hit our universities, prompting a fight between the government and big firms about how many accountants we actually need.
The number of Australians studying accounting has fallen 20 per cent since 2001, with foreigners now vastly outnumbering local
graduates.
The number of international graduates finishing undergraduate accounting degrees skyrocketed by 500 per cent between 2001 and 2012.
Grant Thornton head of HR Kim Schmidt said the firm "is confident that we will be able to get our graduates from local sources".
But PwC's Ms Eckersley says "the more sources which help us attract the best talent, the better".
Ms Nunez worries supply will tighten up again if business confidence lifts and companies start putting on additional resources.
CPA Australia and the Institute of Chartered Accountants argue that international accounting students are "a critical source of future labour supply" for Australia.
The government currently lists four types of accountants – accountant (general), management accountant, taxation accountant and external auditor – as being eligible for migration to Australia.
- Read more: http://www.smh.com.au/business/does-australia-have-too-many-accountants-20140212-32huu.html#ixzz3sKDFW1pT
Categories: None